The future of hospitality marketing is
here
As a hotel or leisure facility owner, you understand that first impressions are everything.
A bespoke virtual tour is the game-changer you've been waiting for. Transport your potential guests into the heart of your establishment.
At Panoptic Motion we don't just capture spaces; we craft immersive experiences that serve as your digital ambassadors. Create confidence by allowing potential guests and clients to explore your facilities and envision their stay before they even arrive.
Having a virtual tour of your hotel or leisure facility will elevate your visibility online. As Google Trusted Photographers our team can integrate your virtual tour with Google Street View and your Google My Business profile. Attract more customer engagement, improve your click-through rate and climb the search rankings.
Contact us to take your business ahead of the competition
Fancy a virtual tour of your own space?
Showcase your space to potential customers without them having to step foot out the house.
Virtual tours are proven to increase engagement with your website, boosting sales and brand awareness.
Touch It
Let your visitors interact with your space
Share It
Boost social engagement
Promote It
More interest than photos alone
Leave your details and we'll call you back 📱
Why do virtual tours attract more
bookings?
Showcase Every Detail
No more guesswork. Let your future guests explore every corner of your property virtually – from luxurious suites to state-of-the-art leisure facilities. A virtual tour ensures that nothing is left to the imagination.
Drive Direct Bookings
Convert curious browsers into confident guests. A virtual tour acts as a powerful call-to-action, enticing visitors to book directly on your website by showcasing the uniqueness and charm that sets your establishment apart.
Google My Business Boost
Enhance your online presence. A virtual tour on your Google My Business listing not only attracts more clicks but also improves your search engine rankings, ensuring that your hotel or leisure facility stands out in local searches.
Build Trust and Confidence
Transparency as the foundation of trust. Allow potential guests to virtually step into your world, building confidence in the authenticity and quality of your offerings.
Stay Ahead of Competitors
Innovation is the key to distinction. A virtual tour is not merely a trend; it's a strategic advantage that positions your establishment as a forward-thinking, guest-centric haven.
Customised to Your Brand
Your identity, meticulously woven into the fabric of the virtual experience. We collaborate closely with you to ensure that your virtual tour aligns seamlessly with your brand, accentuating what makes your establishment truly exceptional.
Save Time and Money
While the initial setup of a virtual tour may require an investment, it's an investment in efficiency. Imagine reducing the need for time-consuming and costly site visits. With a virtual tour, potential guests can explore your offerings from the comfort of their screens, saving them time and you money.
Ideal for Corporate Clients and Event Planners
Especially beneficial for corporate clients or event planners, a virtual tour offers the convenience of venue approval without the need for physical presence. Streamline the decision-making process and cater to the needs of those who may be planning from a distance. Time saved is money earned.
At Panoptic Motion we are not just pioneers in virtual tours; we are architects of unforgettable digital experiences. Join us in transforming the way the world sees your hospitality or leisure space – where every click opens the door to a world of possibilities.
Why use
Matterport?
With our new breed of fully Immersive 3D / 360 virtual tours we are aiming to change the way that people view the hotel and leisure industry. Our new Matterport scanning technology creates a photo-realistic immersive experience, allowing prospective guests and customers to visit and explore attractions online as if they had physically stepped foot inside the venue itself.
Panoramas, virtual tours, photography & videos have been around for years, however we can now create fully immersive 360 hotel virtual tours in high resolution HDR, with clear perspective and definition that allows your customers to get a feel for your location within the comfort of their own home. We have the ability to link to booking pages, restaurant menus, sign up pages and local attractions from within the 3D models allowing a truely immersive experience.
We have future proofed the service by ensuring it is ready to be converted for use on Virtual reality (VR) Headsets. This also allows you to take your models with you to shows and fairs.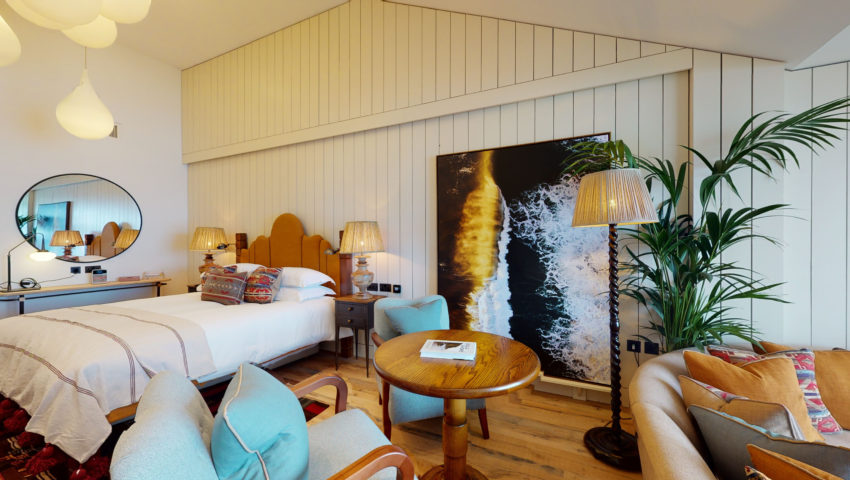 Aerial
Guides
Why restrict your tour to the ground? Our immersive aerial guides provide the perfect viewing angles for outdoor spaces, or properties that cover a larger area. We can seamlessly move from outdoors to indoors, and all within an interface that's custom built to match your company branding.
Our aerial guide are custom made to suit you, we always aim to go above and beyond to meet out clients requirements. Having built numerous tours for properties, hotels, new build developments and wedding venues, each with their own requirements. Utilising our platform will elevate your brand to new heights enabling your customers to explore your location with complete freedom.